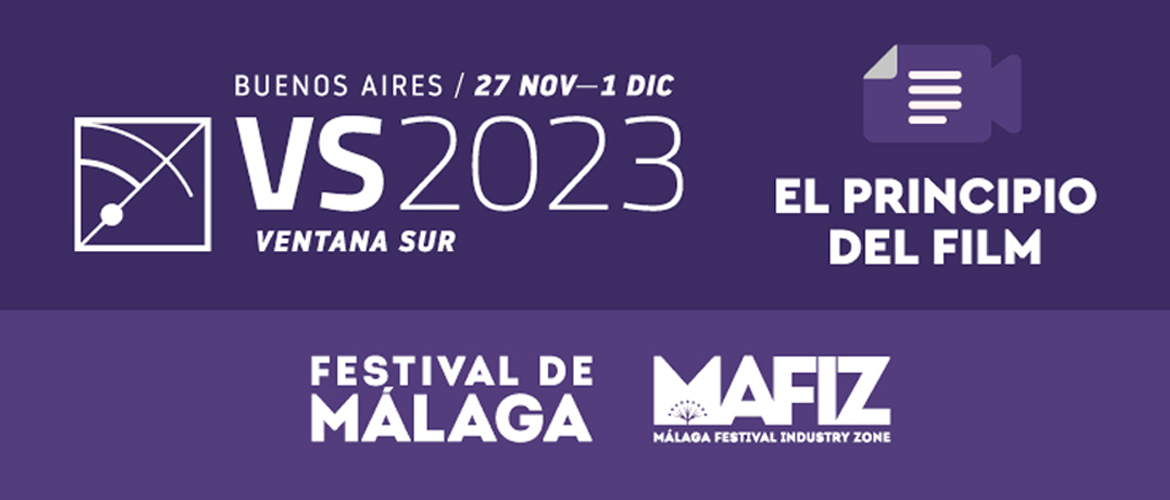 The Malaga Film Festival will take five Andalusian scripwriters to promote their talent at Ventana Sur in the section El Principio del Film
This initiative is sponsored by the Andalusian Ministry of Culture and benefits from the collaboration of the Andalusian Film Academy
The MAFIZ industry area of the Malaga Film Festival will take five Andalusian scriptwriters to participate in the project El Principio del Film, organized and implemented by Ventana Sur, to be held from 27th November to 1st December 2023 in Buenos Aires (Argentina). The objective of this collaboration of the Malaga Film Festival with Ventana Sur is to include in the event the scripts and works of Andalusian talent geared at developing a stronger and more solid Ibero-American cinematography in the international market.

This initiative is sponsored by the Andalusian Ministry of Culture, Tourism and Sport and benefits from the collaboration of the Andalusian Film Academy as the entity that represents the Andalusian audiovisual sector.

El Principio del Film is an initiative created by Ventana Sur in 2020 to give a diverse selection of scripts the possibility of transcending borders to reach the international market. It is also an opportunity for producers and professionals in the rest of the world seeking to connect with Ibero-American creativity without intermediaries. El Principio del Film was thus created to promote the talent of authors, the first inevitable step of all cinematographic productions.

Following a public call for applications, the Malaga Film Festival has selected five feature film scripts with which to partipate in this project. Therefore, during the five days of Ventana Sur, the Andalusian audiovisual industry will have a prominent presence in one of the strategic markets at the international level that brings together international buyers, sales agents, decision makers, investors, festival programmers, producers and industry professionals. This is a unique opportuniry to boost the internationalization of the Andalusian audiovisual productions and support scriptwriters and their scripts, which are the first elements of a film's value chain.

The selected scripts are:

- 'Digital Dolls', by Julia Ponce Díaz (Seville). "Entrapped in the rural and conservative environment of her home town, an Andalusian adolescent turns to the Internet to discover herself".
- ´No soy universal', by Celia de Molina (Jaén). "Celia is a scriptwriter set on making a film about feminine taboos even though the whole fucking world tells her that no one is interested in that subject because it is not universal".
- 'Ahora somos el viento', by Juan Ezequiel Comesana and Amanda Gutiérrez del Castillo (Malaga). "Being different comes with a cost. In Spain, a South American father and his daughter will have to struggle to survive and try to heal the wounds of immigration".
- 'Bolonia', by Javier Gómez Bello (Malaga). "Carmela is a woman from Algeciras who attends, for the first time, a spiritual retreat in Bolonia. Although the event is not what she expected, she will have an extremely hilarious and transformative experience".
- 'Cruising Blood Love', by Salva Martos Cortés (Malaga). "Torremolinos. Decadence, sex, death... and love".