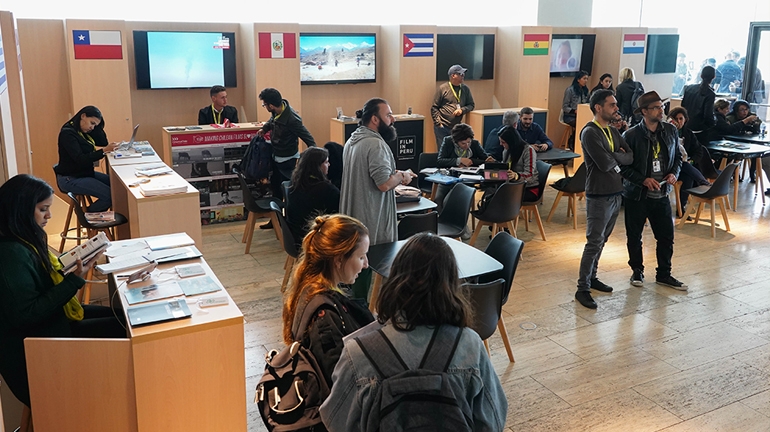 LA VILLAGE DEL MAR

MAFIZ (Malaga Festival Industry Zone) the main objective of this is fostering dissemination and promotion of the Ibero-American cinematography,

Malaga Festival with an international growing presence and highly valued by the cinematographic global scenario, launched several audiovisual events designed to boost networking amongst the European and Ibero-American professionals:

- Spanish Screenings: Designed as the international promotion platform with the main objecting of fostering the international sales of Spanish cinema.

- Málaga Work in Progress: A short list of films in post-production stage will be selected and presented to renowned professionals of the audiovisual sector. These will be disseminated and promoted to favour completion and international distribution.

- MAFF - Málaga Festival Fund & Coproduction Event: An event that enables Latin American, Portuguese and Spanish producers to meet and pitch their projects to the most outstanding international funds and Spanish & European producers.

- Latin American Focus: Coproduction meeting with Latin America, in which each year one country is in focus.

-Territorio España: Malaga Festival launches this industry event aimed to gather Spanish public institutions and production companies. Each year, the Festival will invite an Autonomous Region to create synergies.

- Málaga Talent: Talent Campus for 20 young emerging Ibero-American and European creators; a meeting aimed to exchange ideas, generate creative links and share knowledge, thus improving their professional skills. The programme comprises talks or workshops with a series of experts from the audiovisual industry to build creative synergies.

-Hack Mafiz Malaga: Event aimed at discovering the talent of young digital creators and geared to create employability links between them and companies in the audiovisual industry.

- Málaga Docs: Documentary film meeting for the analysis and debate around the recent Latin America documentary production with the look on its history and traditions versus the production or industrial aspects, amongst other related matters.

LA VILLAGE DEL MAR, located on the Mafiz's main venue in Malaga, will be the venue for presentations, conferences, networking, as well as, the meeting point for the Ibero-American Film Institutes and Spanish Film Commissions.

LA VILLAGE DEL MAR offers MAFIZ guests, attendees and partners the opportunity to meet and build a series of cultural bridges aimed to turn MAFIZ into the landmark of Spanish cinema.