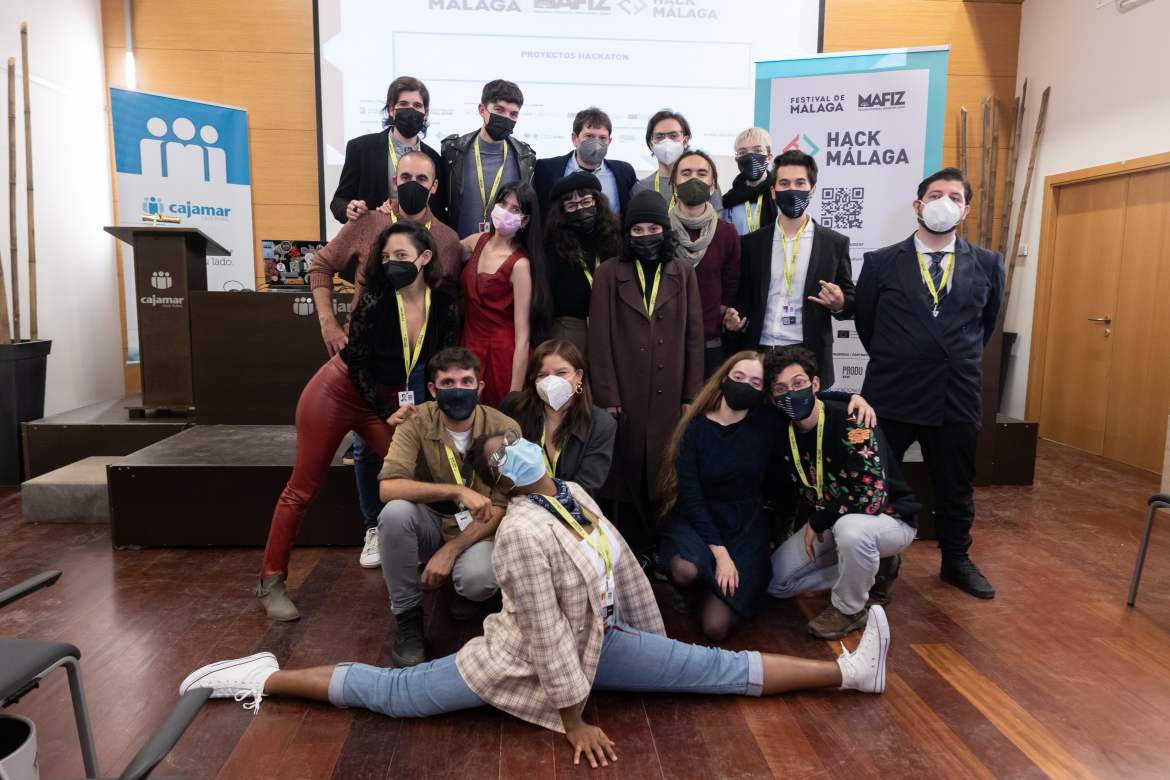 Last challenge for HACK MAFIZ Malaga: a creative community that is here to stay
The young creators filmed in teams five audiovisual pieces on dark stories in the city
Yesterday the first edition of HACK MAFIZ Malaga, part of Spanish Screenings, came to an end with contagious excitement. The project started one year ago when the Festival announced three creative exercises that finalists had to pass in order to participate in the last one, which yesterday finalised at the Sala Alameda Cajamar. The 20 Spanish and Latin American creators of digital content presented in groups the results of the last challenge: to create a short transmedia film with a narrative based on sinister stories of the city of Malaga.

The young ceators, selected from amongst nearly 1,300 participants, were together for a week, attending training sessions, personalised tutoring and masterclasses. They have formed a community which, as one of their tutors, Paula MAssa told them, "is in your hands, for you to enjoy!". The other tutors for the group were Javier Anaya, Adrian Garelik, Luis Ramírez and Nicolás Amelio-Ortiz.

At this closing event the following audiovisual pieces were presented:

Cero negativo, by Paola Ahtziri Estrada (Mexico), Juampi Copello (Argentina), Marta Vazgo (Spain) and Luís Lambert (Venezuela). Through the main character's gaze, the piece reflects the persons who irrespective of gender and era search to satisfy their sexual pleasure in hidden places. The objective is to address fetishes and abnormal sexual activity, subjects that are taboo.

Punto de encuentro, by Sergio Barba and Alejandro Gómez (Spain), Nícolo Nemeses (Colombia) and Muriel Sago (Argentina). This piece introduces fear in the daily life of the protagonist, who suffers from prosopagnosia, a disorder that impedes recognising a face and configuring an identity.

Me lo dijo un pajarito, by Adrián Campos (Costa Rica), Arima Romarey (Spain), Stiff Sullivan (Spain) and Nolwe Tamis (Argentina). This piece is the demo of an interactive series whose premise is to give the audience the possibility of choosing part of the series' plot structure and thus transform a traditional film narrative into a transmedia experience.

Monstruosamente juntos, Fabiola Contreras (Dominican Republic), Max Deniam (Spain), Isabel Torres (Mexico) and Miguel Ángel Valgo (Spain). This project is an educational tool which offers, through different audiovisual pieces, pedagogical and accessible content to fathers and mothers to explain complex subjects to their children, such as immigration or sexual identity.

El aplauso que no fue, by Adriano Canella (Peru), Gonzalo Lugo (Uruguay), Azul Renzi (Argentina) and Teo Saksonoff (Argentina). Audiovisual comedy in the form of a false documentary that wonders what has happened to ghosts, and their estrangement in our digitised society which imposes invisibility to those who are not present in any social media or digital platform.

Following a screening full of emotion, laughter and applause, the first edition of HACK MAFIZ Malaga said goodbye with the words of Ralph Haiek, President of the Investment Committee of Capital S.A., a key element in the implementation of the project, and Annabelle Aramburu, person in charge of MAFIZ. The two of them thanked the industry and professionals for their involvement and commitment to this initiative to "show to the world what young people with talent are doing". Lastly, Aramburu brought the event to a close, stating that she felt "proud and touched" for "having had the fortune of choosing them" and invited these young creators to "count on us, because we want to be aware of everything you do"; and encouraged them to continue "participating in this community, which is like a family".