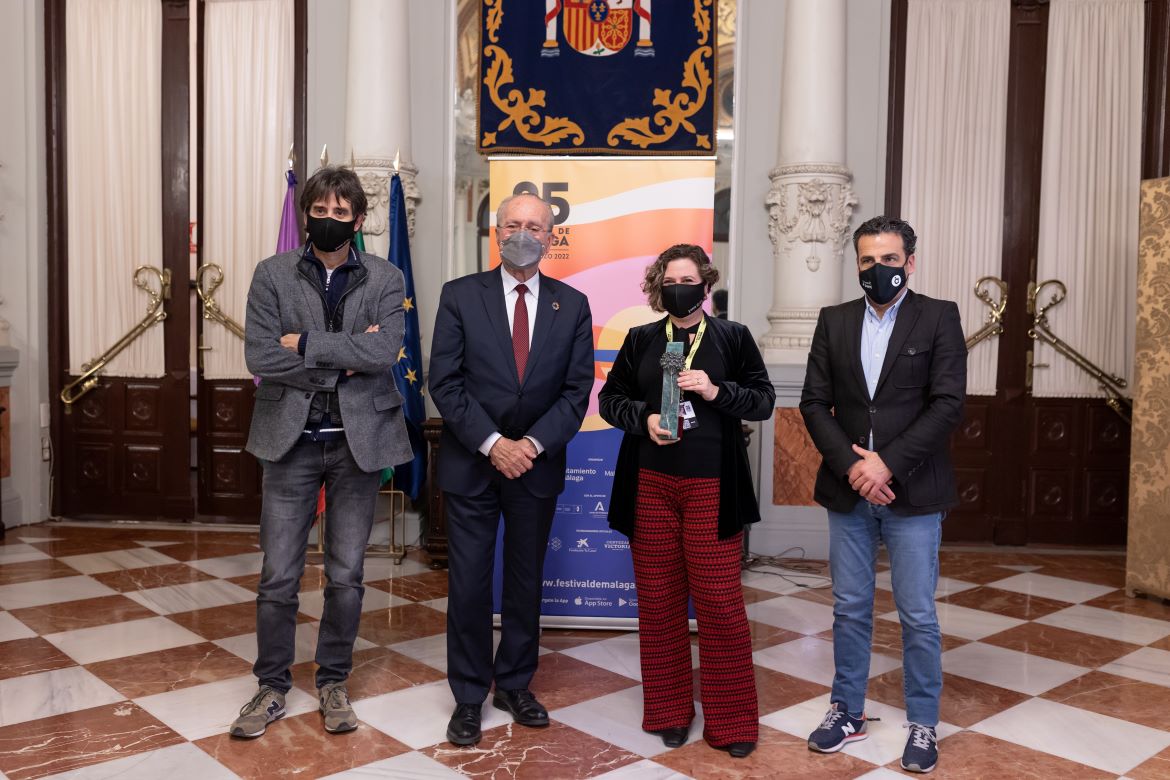 The Valencian Community receives the Silver Biznaga
The region, protagonist of the new section Territorio España, is presented at MAFIZ as a film-friendly destination
Yesterday, Francisco de la Torre, Mayor of Malaga, gave the Silver Biznaga to the Valencian Community as the guest of the new Territory Spain section. Raquel Tamarit, regional Secretary for Culture and Sports, received the award as the region's representative. José Luis Moreno, Deputy Director for Audiovisuals of the Valencian Institute of Culture, and Alfred Costa, the Director General of À Punt Mèdia were also present at the ceremony.

During the day there were a series of activities for members of the industry accredited at the Malaga Film Festival. Diego Valiente, representative of Valencia Region Film, the Valencian Film Commission that encompasses the territory's film offices, was in charge of one of these activities to present the Valencian Community as a set for film shootings.

For Valiente, being at MAFIZ these days means being "at a very interesting point of encounter of the national audiovisual industry, which is concentrated in Malaga and where possibilities of attracting more shootings can and are occurring". Valiente added that they are "very happy" for having been given "the opportunity to be this year's guest region", amongst other reasons, "to draw attention to our territory as a perfect location for shootings" which "is increasingly in demand".

The main advantages of the territory he mentioned include "the very mild climate and more than 300 days of sun per year, which is very positive for outdoor shootings; having all types of locations in a small area of territory; the service we provide to productions; the good transportation connections thanks the AVE (high speed train) and three international airports, and a series of grants and incentives". In this sense, he pointed out the "commitment and decision" of the public administrations to "promote and generate this film friendly region in the Valencian Community".

Yesterday morning, Raquel Tamarit, the regional Secretary for Culture and Sports; José Luis Moreno, Deputy Director for Audiovisuals of the Valencian Institute of Culture; Dora Martí, the person in charge of the promotion of short films; Alfred Costa, the Director General of À Punt Mèdia; Cristina Perales, the Second Vice President of the Valencian Academy of Audiovisual Productions; and the Secretary of the Audiovisual Commission of the Associació d'Actors del País Valencià (AAPV) participated in several presentations on incentives and options for coproduction, the importance of the regional television and the value of the audiovisual sector and the actors and actresses of the Valencian Community.

In addition, they are presenting three fiction feature film projects that have benefitted from the support of the IVC: Pequeños calvarios, by the Polo siblings; Un bany propi, by the producer Mecomlys; Les vacances de Mara, by Tarannà Films. Other projects that are also participating in the market are Carta de Despedida, by BS Global TV; Spanish Files, by Marallavi Films; El Despertar, by El Camino e Inaudita Producciones; Vega: la historia de un viaje, by Asismaval; Eterno Otoño, by Not Alone Producciones; and Karen y Julia, by Camino a Garaitondo.