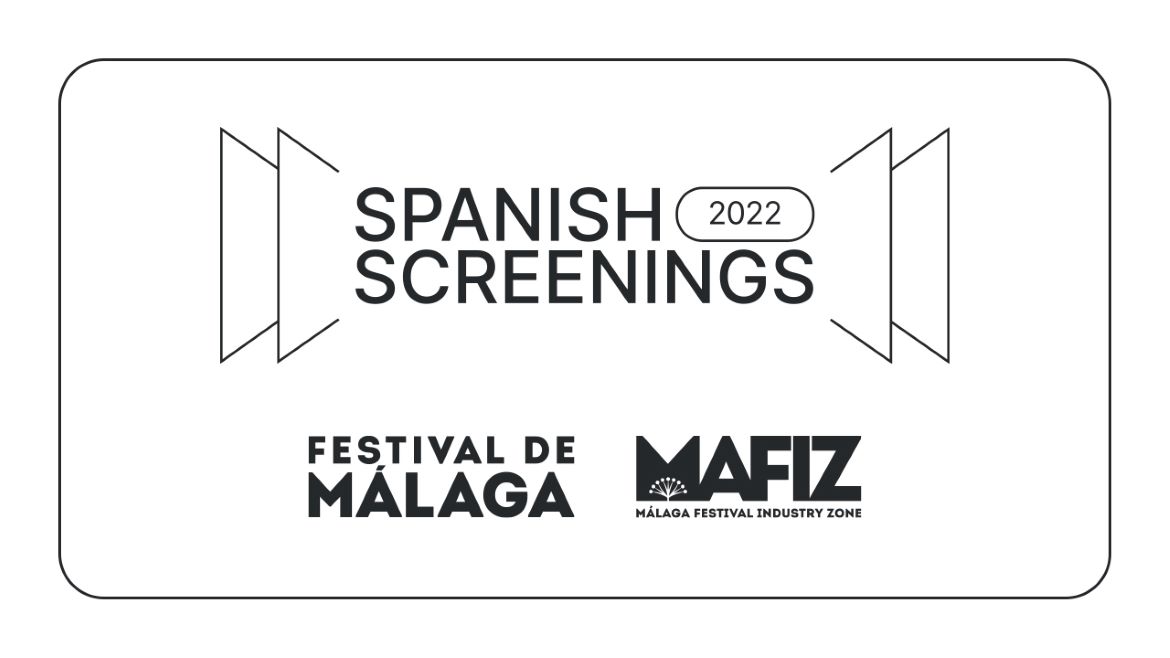 Spanish Screenings 2022, the official market for the sale and promotion of Spanish cinema, recovers its in-person character, with an expanded format and new content
MAFIZ, the Malaga Film Festival's industry zone, will host this event from the 21st to the 24th of March
Spanish Screenings, the event designed as an international promotion platform aimed at boosting the sale of Spanish films, which will be holding its 16th edition in 2022, is the only official market for the sale and promotion of Spanish cinema. It is held in collaboration with ICAA (National Institute of Cinema and Audiovisual Arts) and of ICEX España Exportación e Inversiones (Spanish Trade Commission), with the support of the audiovisual sector.

Thanks to the Spanish government's budgetary allocation, this edition of the event will adopt a new format as 'Spanish Screenings XXL – International Market for Spanish Audiovisual Production'. This project is part of the Plan for Recovery, Transformation and Resilience (PRTR), and will benefit from a total of 200 million euros to reinforce the role of Spain as Europe's audiovisual HUB.

Spanish Screenings is at once a stimulus, a lever for change and a catalyst for Spanish talent abroad, with activities throughout the year at strategic national and international festivals. New formulas in a constantly changing audiovisual context that are committed to creating a new economic framework and that emphasise the promotion of emerging talent.

The first event of Spanish Screenings XXL is Spanish Screenings Content, which will be held for the sixth year in a row as part of MAFIZ (Malaga Festival Industry Zone) within the framework of the Malaga Film Festival, between the 21st and the 24th of March. With this new format, the Malaga Film Festival seeks to achieve its objectives through different lines of work, which include a greater diversity of content (film series, new online and offline formats) as well as new sections.

This is all reflected in the design of the XXL format of Spanish Screenings, which aims to achieve the following objectives:

- Increase the variety of the participants' profiles: pay platforms, televisions, digital creator platforms, film festival programmers, international producers, international press.

- Increase the promotion, information and dissemination of Spanish cinema 365 days a year.

- Increase and improve the venues for screenings and activities.

- Reinforce the Spanish Screenings brand by means of itinerant actions geared at the sales and promotion of Spanish cinema in territories where the Spanish film culture is not yet consolidated.

- Advancing equality in the audiovisual sector, paying particular attention to the search for parity in all actions and decisions wherever possible, in line with the strategic objectives of the PRTR funds.

- In line with the Malaga Film Festival's corporate philosophy,and also with the cross-cutting objectives set by the PRTR funds, to make Spanish Screenings an environmentally sustainable event. For this purpose, the event's carbon footprint will be calculated after analysing the greenhouse gas emissions produced as a result of the Spanish Screenings event, aiming at reducing them as much as possible and applying compensation measures required to achieve a carbon neutral event.

In the course of the four days of the market, international buyers, sales agents, distributors, festival programmers and producers will have access to the most recent Spanish productions, with screenings in halls as well as on the platform spanishscreenings.online, the site of reference for agents, national and international distributors and festival programmers, which will be activated on March 17th.

In 2022, 162 films and 5 projects will be presented, and nearly 600 professionals, including amongst others, buyers, international festival delegates, producers and sales agents from 50 countries are expected to attend.

The new sections of Spanish Screenings Content are the following:

- Market Premieres: a section with three private screenings of productions that have not been premiered at any other international market, with the participation of the productions' artistic talent, presented by Spanish sales companies.

- Remake Day: day designed to give a boost to the sale of remake rights. For this purpose, producers and studios from all over the world have been invited as habitual clients in the purchase and production of Spanish films for remakes, orl who are looking for new content.

- Spanish Copro Forum: five new fiction and non-fiction feature film projects searching for a co-production. The projects have been selected for their potential in search of co-production. It includes personalised mentoring with a renowned industry professional, Anette Duijsin (head of Filmin Portugal and programmer of the Venice Critics' Week), focusing on the detection of potential co-producers, the preparation of the lift pitch, and advice on international distribution.

- Animation Day: day developed with DIBOOS and Animation from Spain (an ICEX initiative) devoted to the animation and VFX, strategic sectors, at which a series of novelties in Spanish animation markets will be presented, along with sneak-peeks of the latest productions, incentives, etc. In addition, emphasis will be placed on new talents and WIP projects.

- Spain Colorful Diversity: a space in which the Autonomous Communities can present their film locations, plans to support shootings and tax incentives.

- In line with the attention given to the Autonomous Communities, a new platform called Regional Film Hub has been created for the promotion and dissemination of their cinema, a space in which the Film Institutes of Spain can screen the films developed and produced with their support.

- Book Showcase: through spanishscreeenings.online, participants will have access to literary works available for adaptation to an audiovisual. Developed with the collaboration of Stories2be.

- Spain Scorecom: a selection of 18 emerging film music composers will have their own space on spanishcreenings.online with the objective of fomenting new talents and introducing them to the international industry. Developed with the collaboration of Music Library & SFX.

In addition, the following successful sections will continue:

- Screenings: sessions at which buyers and international festival programmers can view recently produced Spanish films. Priority will be given to films from the last quarter of 2021, first quarter of 2022 and that have recently started to participate in other international markets.

- NEO Screenings: screenings of the most innovative and daring Spanish cinema. The new forms of film expression that are being created in Spain will be presented.

- Next From Spain: presentation of trailers of premieres scheduled for 2022 and 2023.

- Spanish WIP: a space conceived to boost the finalisation of Spanish films in port-production phase and to foment their dissemination and promotion.

- Industry Club: a venue for meetings for producers, distributors and participants in general.

- Film Library: online platform for buyers, distributors and international festival programmers to view films and TV series.