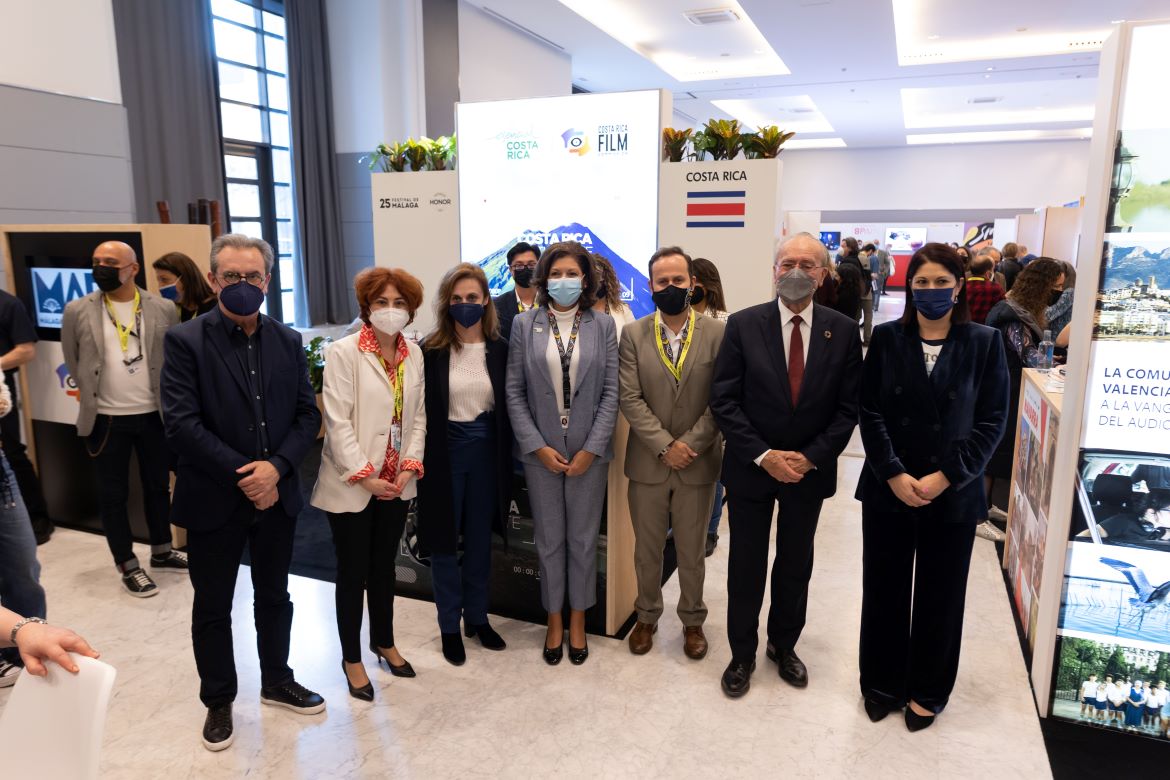 Industry Club brings together professionals of the film sector
This area hosts more than 30 stands of sales companies, film commisions, film institutes and institutions
International sales companies, film commissions, film institutes and institutions have their appointments these days at the Industry Club, a space for networking, sales and promotion created in the framework of MAFIZ to bring together the most prominent representatives and professionals of the audiovisual sector.

This zone, which is located at the NH Hotel in the centre of Malaga, was visited yesterday by Francisco de la Torre, the Mayor of Malaga; Beatriz Navas, General Director of the ICAA; Maria Peña, CEO of the ICEX; Juan Antonio Vigar, Director of the Malaga Film Festival; Rafael Fuentes, Provincial Director of the ICEX in Malaga; and Pablo Conde, Director of Fashion, Habitat and Cultural Industries of the ICEX.

Different areas coexist inside the Industry Zone, which houses a total of 33 stands. Before beginning the tour of the Industry Zone, the first stop was the visit to the 20 winners of HACK MAFIZ Malaga, which also has its work headquarters in one of the hotel's halls. From the 22nd to the 24th of March, these young digital creators will be working on the last challenge of the event, the final phase of which is held in Malaga.

Once inside the Industry Club, the authorities visited the area of the sale agencies, where Film Factory, Filmax, Latido Films, Cinema Republic, Urban Films, Moonrise Pictures and Inside Content are located. The next stop was in the area of Costa Rica and the Valencian Community, the protagonists of the sections Latin American Focus and Territory Spain, respectively, two MAFIZ events created to promote at each edition a guest country from Latin America and a Spanish autonomous community. The tour finalised at the institutional stands.

Industry Club also houses Spain Colorful Diversity, a space in which the autonomous communities of Spain present their locations for film shoots, support for shootings and fiscal incentives, which is occupied by the film commissions of Spain, Andalusia, Cantabria, Valladolid, La Rioja, Aragon, Asturias and the film offices of Malaga, Bilbao, Vitoria and Teruel.

In this line of attention to the autonomous communities, Regional Film Hub is designed to enable the former to promote the films whose development and production they supported, which the communities of Aragon, Castilla La Mancha, Catalonia, Madrid, Navarre, Extremadura, Galicia, Balearic Islands and Basque Country are doing this year in the Industry Zone.

Some institutions also have their own space in this zone devoted to the industry, and the Mayor, the representatives of the ICAA and ICEX and the Director of the Festival spent time with all of them: EGEDA, FNCL, ICAA, ICEX and Canal Sur.